Brushed Metal Photographic Prints
With our method of custom direct printing onto brushed metal,  a photo is printed  onto the brushed surface of a 1/8″ (3 mm) thick panel.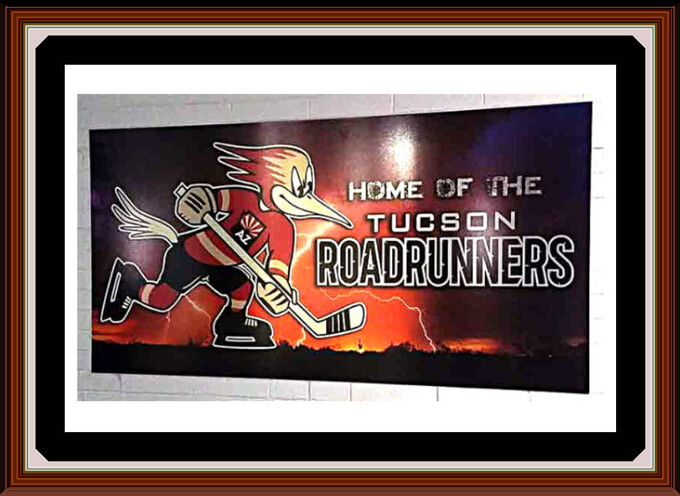 We print your photograph directly onto brushed metal for a gold or silver metallic look in Tucson, AZ​
State of the art flat bed printers are used to produce the photograph or artwork directly onto brushed aluminum in the form of metal photo prints. Latex inks produce the best color gamut with maximum durability. Finally, a clear coat is added to the finished metal photo print.
By using the latest technology flatbeds, capable of printing the largest industry sizes , we certainly have no limitations. Five feet by 10feet is possible with one sheet of material, making it ideal for corporate lobbies or sports venues.  If you have a large wall area to fill in your own home,  consider a photo wall using different size prints and why not consider different media.
A variety of ways available for hanging brushed metal prints

FOAM CORE
Foam core, foam board, or paper-faced foam board is a lightweight and easily cut material used on the back side of a print to relieve (show a separation) from the wall.  Double-sided tape or mounting hardware may be used for attachment to the wall.

FRENCH CLEAT
A French cleat is a way of securing artwork or other object to a wall. It is a molding with a 30–45 degree slope used to hang objects. French cleats can be used in pairs, or with a cleat mounted to the wall and a matching edge cut into the object to be hung.

PRINT HANGING HARDWARE
General hanging hardware, including hooks, wire, and attachments with teeth are used as the basic attachments used to procure prints to the wall.  They are available to support almost any weight. Be sure to determine what type of screw or molly should be used in the wall.

STAND-OFFS
In general, a stand-off is a solid material used to separate the wall from the printed piece.These standoffs are available in various sizes and can vary in sizes from microns to inches. They can be made of metal, plastic, glass, and other materials. Normal placed in each corner of the print.
Once your artwork is print ready or your photograph is ready, custom accents such as frames for a visual border or descriptive text can be added.
Dealing with a local manufacturer has advantages. Aside from lower prices, you control the process. See samples, speak directly with a designer and benefit from higher quality standards. For assistance in setting up your file CLICK HERE or please checkout www.Graphic-impact.com to see many more of our products manufactured locally.