Acrylic Photographic Prints
Print your photos on acrylic, if you're printing a picture with colors that span to the edges of the printable color range, and you want to reproduce the colors to the greatest effect,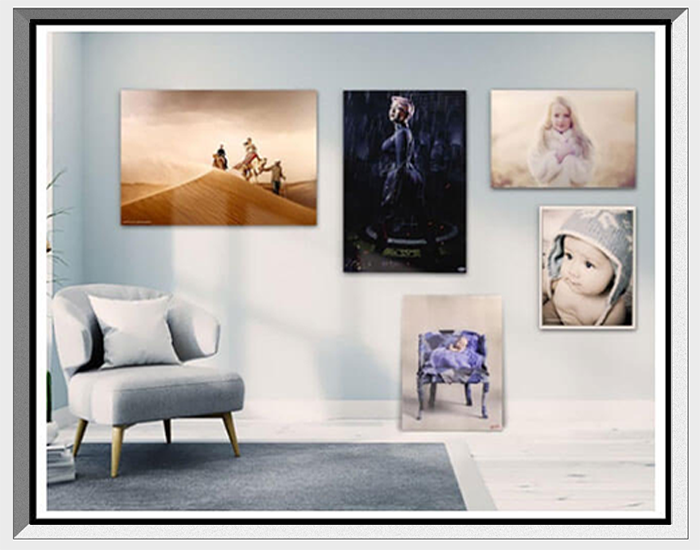 We print digital photos or reproduce your artwork directly onto acrylic in-house by Graphic Impact in Tucson, AZ
Modern and sleek acrylic photographic prints add a contemporary feel to any photo wall. Print your photos on acrylic glass offering image sharpness and fantastic detail. The finished print is foolproof since the printing is done on the reverse side of the acrylic.  A white backing layer is applied behind the print. Acrylic is a very popular medium for photographers, art galleries, and fine art applications, and custom acrylic photo prints in Tucson garner vast appeal. Since acrylic has greater longevity, durability, and quality of materials, it is also ideal for creating wall art for the home or corporate art.
Compare this method to Giclee since the process is similar.
Digital printing advantages on acrylic
Comparing canvas prints and acrylic photographic prints
Canvas prints and acrylic photographic prints are like paintings you would see in a museum. Acrylic prints are vivid and seem three-dimensional because the image is printed on the opposite side with a white background applied. If you print your photos on acrylic, avoid mounting it opposite a bright window or under bright lights because the reflections will ruin its look. Find a different spot for the acrylic to showcase its details and colors. Canvas prints have significant surface texture that creates a subdued look, making it similar to a true painting. This is why Giglee Canvas Prints are favored by artists when reproducing their works.
Canvas has significant surface texture and adds a matte-type finish to an image, creating a more subdued look with regards to color and contrast.  This tends to liken the image to a true painting.  And that is why Giglee Canvas Prints remain a favorite of artists reproducing their works.