With canvas prints, you can easily turn your designs and photos into actual works of art. All without you even lifting a paint brush.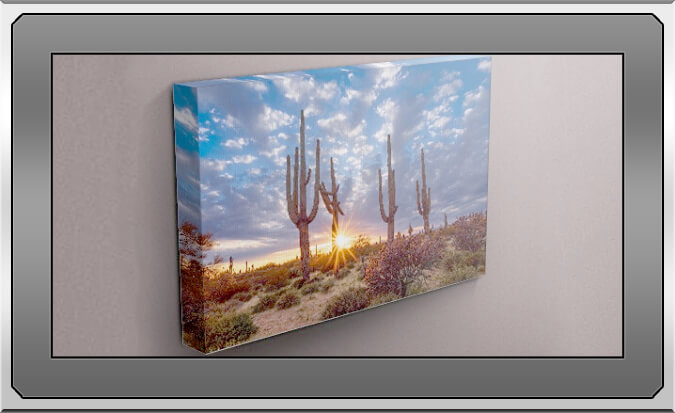 What are giclée canvas prints?
Besides its original association with Iris prints, the word giclée applies to special printers that use fade-resistant, archival inks (pigment-based), and archival substrates used by our special Canon printer.  Our printer not only uses the CMYK  (Cyan, Magenta, Yellow and Black) color process as a base but additional color cartridges for smoother gradient transitions (such as light magenta, light cyan, light and very light gray), and 12 different inks in top model printers (orange, green, violet, blue, red) to achieve the largest color gamut in custom giclee canvas prints. This includes not only canvas but various textures and finishes such as matte photo paper, water color paper, and textured vinyl. Try our giclee canvas prints in Tucson today! Compare Canvas Giclee to acrylic photographic prints.
Some ideas for canvas prints
Perhaps you have several favorite photographs, and you can't choose which one…frustrating isn't it?  And what a wonderful and unique gift it would make as a gift for the happy couple's first anniversary.  Then the first house, baby's first birthday, first day at school, graduation day, 21st birthday.  You'll see generations of parents and grandparents added on many walls and favorite pets and special events that you'll want to remember forever. Shouldn't all of these be displayed on canvas?
Not too many people know what difference you can achieve with canvas prints. Canvas prints provide you with a look and feel that is highly different from glossy prints.
Canvas prints allow you to create many possibilities when you feel that the glossy print is limiting you. With canvas prints, you can quickly turn your designs into actual works of art. You can quickly transfer images onto the canvas without even lifting a paintbrush.
Wrap options for canvas prints
To ensure that you achieve breathtaking canvas prints, this guide will clearly explain the three styles of canvas print wrap available for you to choose from. Each is slightly different and offers a distinctive, unique embellishment to the canvas art, so choose your favorite and witness the magical, instant transformation to your home décor! Before selecting one of the following wrap options, it is worth considering where you would like your prints to be displayed, whether the photo(s) you are using might have an important subject at the edges or corners, and how three-dimensional you would like them to look.
Canvas Prints Wrap Number 1: Gallery Wrap

Gallery wrap means that your image is folded around the edges of the artwork to create a continuous, unbroken image right across the canvas and including the sides. Thus the picture really is stretched over the canvas to really fill it with color and energy! This is the most popular style of canvas wrap and is often the default option for most professional canvas printing companies and photographers. It is important to note that the gallery wrap is not suitable for images with significant details on the extremities because these might be wrapped over onto the sides. However, it is always worth verifying with canvas companies because their expert designers will be able to advise you on the right course of action regarding your wrap format.

Canvas Prints Wrap Number 2: Mirror Wrap

When you crop images for digital print you may lose some of it due to the aspect ratio. You should always crop the image to the correct aspect ratio before submitting it to us. The aspect ratio of an image is the ratio of its width to its height. It is commonly expressed as two numbers separated by a colon, as in 16:9.

Canvas Prints Wrap Number 3: No Wrap

Just because you do not have either gallery or mirror wrap does not mean that your photo has to suffer! No wrap works brilliantly for all types of photo because the image is displayed solely on the main projecting face of the canvas prints. This gives full visual and dramatic impact to the principal part of the canvas. Your image is presented face-on which allows for a strong and vivid 'Wow' factor to jazz up the mood and feel of your home. The edges and sides are printed in white or in any colour of your choice. Canvas prints with No Wrap look astounding because you can create a vibrant balance of color and tone. Use deep, rich red for the edges for very strong and vivacious canvas prints, or choose light blue for a calmer, more tranquil lift to the atmosphere.