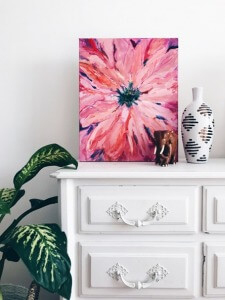 We get this question very often: What's the difference between a canvas print and an acrylic print? There are myriad differences and advantages of both the prints, but before we delve into that, let's check out the processes involved in the printing of each.
Acrylic Prints
An acrylic photo print is known by different names like acrylic face and photo mount. The general acrylic sheet is often referred to as Lucite, Perspex, or plexiglass, which are different acrylic brand names.
There are two processes of making an acrylic print: Direct printing on acrylic material, or first, printing on paper and then face mounting on acrylic material. We can print your artwork directly onto acrylic to offer fantastic detail and sharpness at Photography and Art Solutions.

Canvas Prints
People have been printing on canvas for a long time. Initially, it was done using offset printing, but now it's don't through inkjet printers and dye-sublimation, also known as giclée canvas printing.
The goal of giclée canvas printing is to create an old-fashioned oil painting appearance on canvas. It's displayed using a canvas gallery wrap method where the canvas print wraps around the wooden frame, making it look like a frameless piece of art.
Advantage of Acrylic Printing
Durability
Acrylic printing tops canvas when it comes to durability. Acrylic printing offers 70% to 99% UV protection and 100% moisture protection. It works best for direct printing but not as much in the case of face mount. Before ordering your acrylic print, you must ask your printing service if they apply a post-print varnish to protect the print from moisture and UV rays.
While we don't recommend dropping the prints for any medium, you can rest assured that your acrylic print will be shatter-resistant. However, you may get some chipped edges if there is severe damage.
Uniqueness
Canvas paintings and prints have existed for a long time, and their classic appeal cannot be matched. However, when it comes to the uniqueness of the look, acrylic takes the lead. It's because this process of printing is still in its burgeoning stages and hasn't hit the mainstream yet. Artists and photographers who want to stand out from others have had success with acrylic printing. When you go to an art gallery and check out traditional canvas after canvas and then see an acrylic print, you feel a gust of fresh air with its sharp and lustrous appearance.
Advantages of Canvas Printing
Transportability
Canvas is a fabric, which is why it's lighter and can easily be transported while framed or in rolls secured in card tubes. Their versatility in size and their scratch resistance capabilities make canvas printing an ideal choice if you're on the move.
Price
If you have a tight budget but still want a gorgeous-looking print for your living or bedroom, we'd say go for a Giclee canvas print. It'll cost you half the price compared to an acrylic print.
Get High-Quality Giclée Canvas and Acrylic Prints in Tucson, AZ
Are you looking for high-quality and vibrant acrylic prints or Giclée canvas prints for your Tucson, AZ, home or business? Photography and Art Solutions can help. We offer customized brushed metal photo prints, aluminum prints, and photo printing on glass within your budget. Get in touch with us.